The 6th grade girl's basketball team opened the season last night against the Whiting Oilers. Our girls played tough through all 4 quarters and came out with the win 18 -12. The scoring attack was led by Savannah Hastings (6), Emily Laba (4), Bella Gutwein (4) and Tati Otano (4). The Bearcats played strong defense throughout the entire game. Leading the way were Kiki Tsahas (4 steals), Arlette Vega and Lisset Diaz with their tenacious defense down the stretch to help secure the win. All the girls played hard, and it led to a great team win. Way to go Bearcats! The girl's next game is Tuesday the 31st at home against Hanover Central. Come out and cheer on your lady Bearcats!
Like a well oiled machine, our 7th grade lady Bearcats came out strong and never looked back, beating the Whiting Oilers 40-4! Dominating the offense, was Lillian Tancos (14 points), Grace Gabriel (10 points), Kylie Simpson (6 points), Grace Renn (4 points), Samantha Luken (4 points), and Lilliana da Silva (2 points). Destroying the boards was Brooklynne Jolliff and Lilliana da Silva. The strong defense was lead by Payton Arney, Juliana Blevins, and Sadie Sandra. Tipping off with their first win, our 8th grade team beat Whiting 48-18. The fab five dominated the first half with a score of 30-2. With a total team effort, the offense was lead by Izabela Schumacher (16 points), Ava Lukawski (15 points), Reese Luedtke (4 points), Mackenzie Campbell (2 points), and Aralynn Lawson (2 points). Chipping in for 8th grade was Brooklynne Jolliff (6 points) and Kylie Simpson (3 points). Way to go Cats! Our next game is at Morgan Township, on January 30th! Hope to see you there!

Union Township School Corporation will be on a two hour delay today, Wednesday, January 25, 2023.

Pop-tines!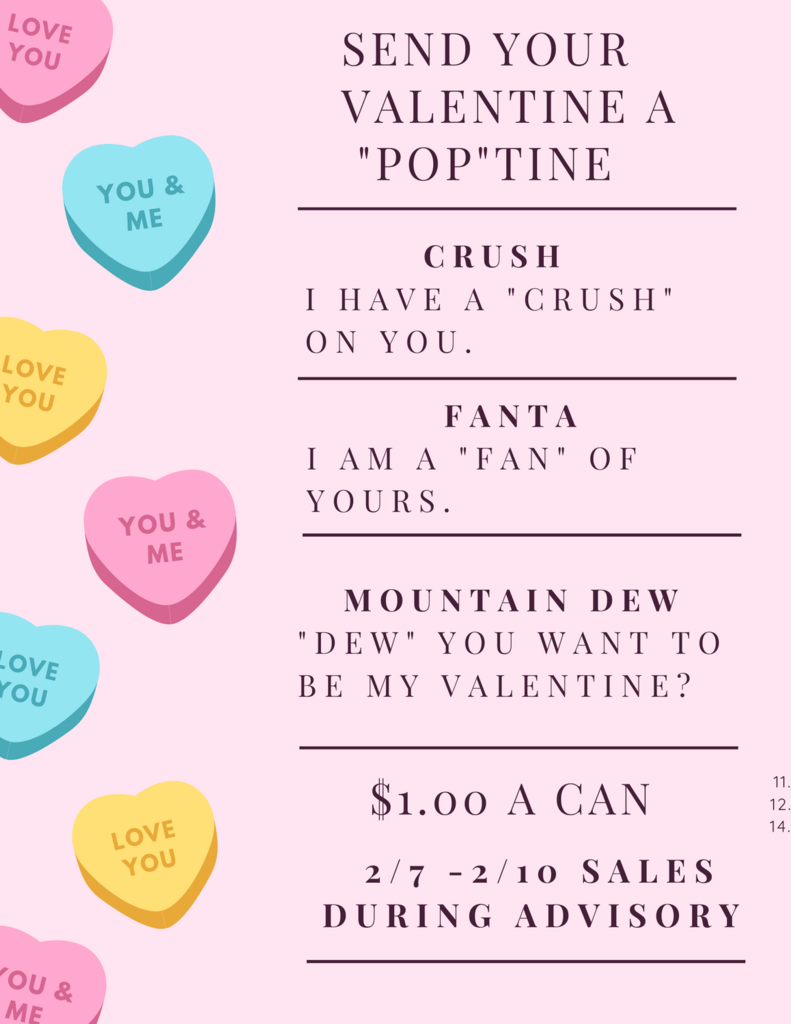 Monday Memo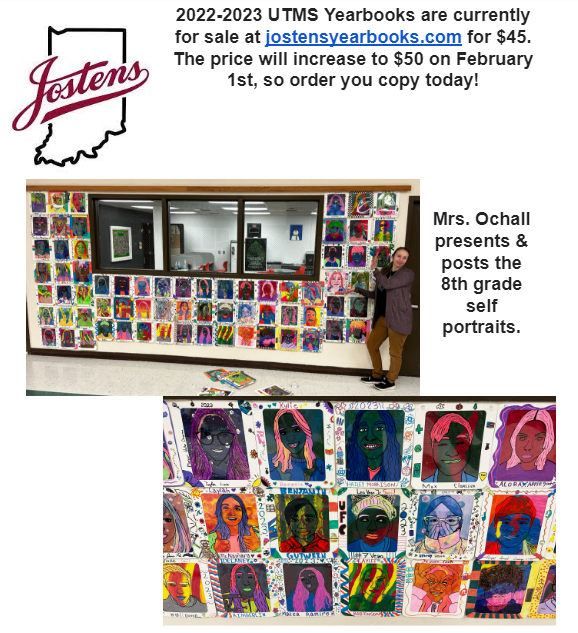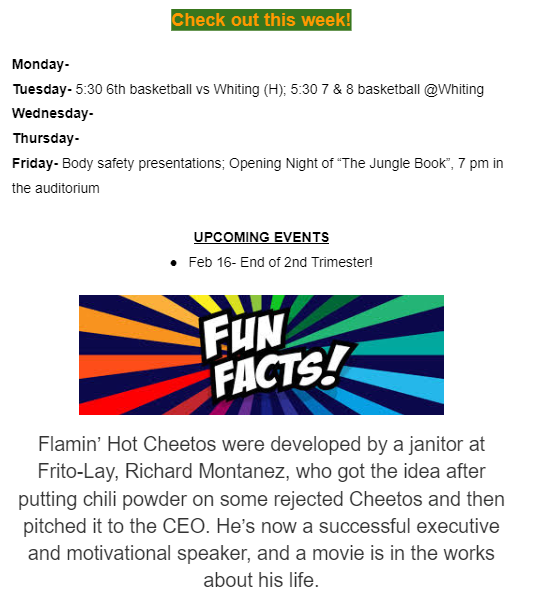 The 7th and 8th grade girls basketball teams began their season tonight against Boone Grove. The seventh graders showed poise throughout a rough and tumble game and outplayed the Wolves 34-11. A balanced scoring attack was led by Brooklyn Jolliff with 9 points, Kylie Simpson (6), Grace Gabriel (6), Lillian Tancos (6), Grace Renn (5), and Liliana da Silva (2). The Bearcats played tough defense throughout and forced many Boone Grove turnovers that led to transition baskets. With their first game under their belt, your 8th grade lady Bearcats came out strong in the second half, dominating with their defensive stance clawing their way back into the game. With time running out, they were unable to complete the comeback, falling short 22-19 to Boone Grove. Offense was lead by Ava Lukawski, with 5 points and Aralynn Lawson with 4 points. Chipping in for the 8th graders was Grace Renn, with 6 points. Defense was lead by MacKenzie Campbell, Reese Luedtke, Izabela Schumacher, Kylie Simpson, and Lillian Tancos. Our next game is Tuesday, January 24th against Whiting, at home. Come support our lady Bearcats!
Monday Memo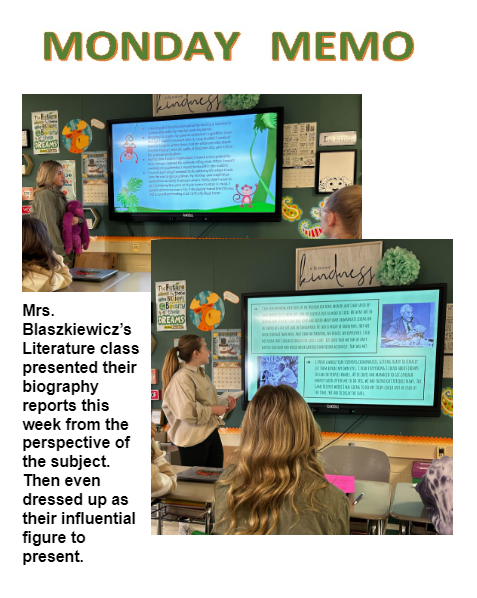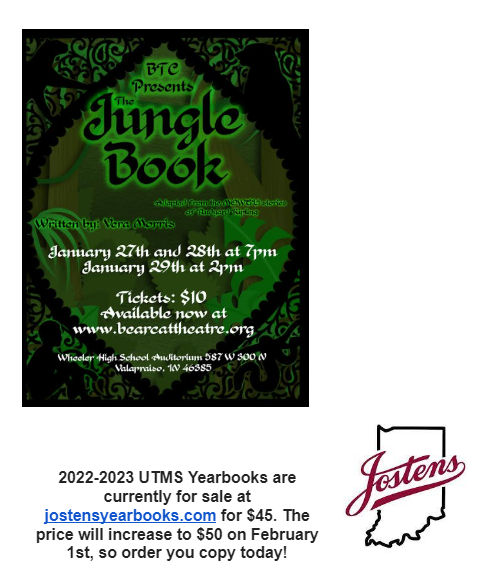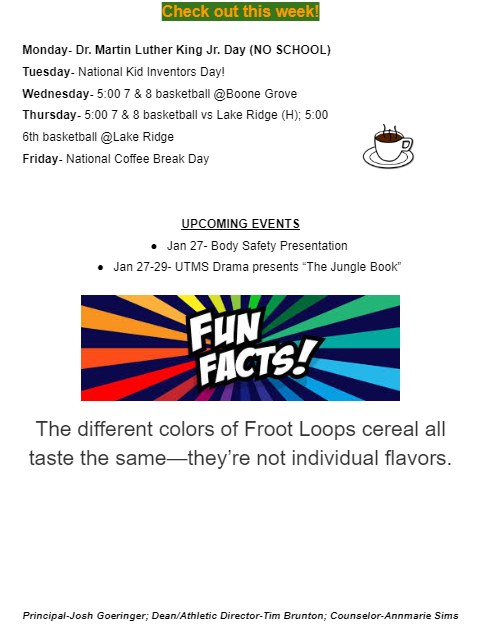 UTSC families are invited to the UCE PTO's Sensory Night Friday, January 20th, 6PM at UCE for Porter County Families. Please see the fliers for more information. Thank you to our UCE PTO for hosting this wonderful event for kids and families of Porter County!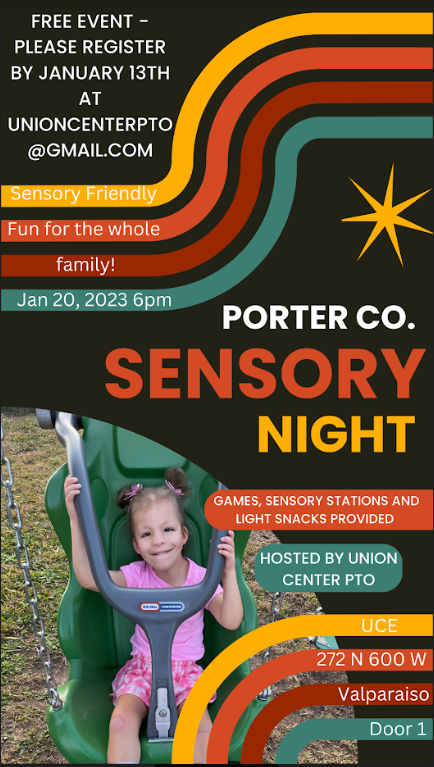 BTC Jungle Book!
Tomorrow's MS girls basketball game against Washington Township has been canceled. The MS girls game against Boone Grove has been moved from 1/16 to 1/18 at 5pm at Boone Grove MS.
Monday Memo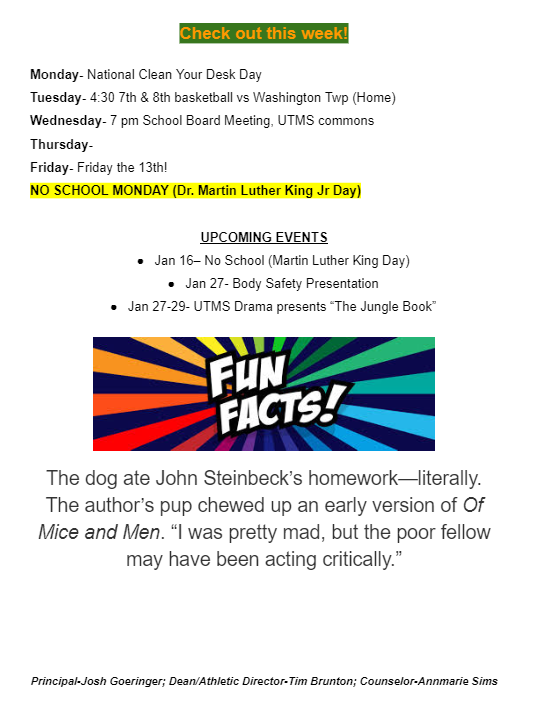 Please follow this link for important information regarding a boil order on Friday, January 6, 2023.
https://5il.co/1misq

UTSC releases 2023-2024 School Calendar and posted it on the corporation website. The calendar may be found:
https://5il.co/1mfbi